We have just received the following very useful advice concerning the current coronavirus outbreak, provided by Chris Zielinski, who had a career with WHO and who still has strong links with the agency. It is well worth reading and perhaps sharing with others:  
As we work our way through the coronavirus crisis, the enforced social isolation has driven many of us to spend more time on the computer. As a result, we are experiencing what WHO Director General Tedros Adhanom Ghebreyesus has termed "an infodemic". However, not all of the information that comes through the medium is correct. "Fake news" abounds, and it is often made to look as real and authentic as possible.
Whatever amusement it gives those who put it out, in a health emergency it is far from a joke. When fake news goes viral, incorrect information, like the coronavirus itself, can kill.
We found a recent case circulating among BAFUNCS – the fake "Johns Hopkins" information sheet debunked by the Snopes fact-checking service (https://www.snopes.com/fact-check/johns-hopkins-covi
d-summary/ - which prompts this warning.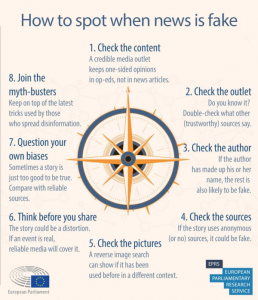 How can you tell if news is trustworthy or not? The European Parliament has prepared a handy guide on fake news accessible at https://www.europarl.europa.eu/news/en/headlines/society/20200326STO75917/disinformation-how-to-recognise-and-tackle-covid-19-myths, including a visual chart on identifying the unhealthier parts of the infodemic.
WHO has a page listing "Myth busters" – giving quick and clear verdicts on some of the notions circulating on coronavirus/Covid-19 – at https://www.who.int/emergencies/diseases/novel-coronavirus-2019/advice-for-public/myth-busters.
Take care during this pandemic and infodemic!