SOME OF OUR CURRENT PROJECTS:
Collaborative Project with UNA-UK
The UN Association of the UK (UNA-UK) is the UK's leading independent policy authority on the UN and a grassroots membership organization with a network of supporters across the UK. Through education and advocacy, it seeks to promote a strong, credible and effective United Nations. UNA-UK members receive the Association's magazine, New World, and have opportunities to participate in local and national campaigns and events.
BAFUNCS maintains close relations with UNA-UK. A recent survey showed that about 25% of BAFUNCS members are also members of UNA-UK, and the latter would like to significantly increase that percentage. It also showed that several BAFUNCS members already regularly give talks to UNA-UK local branch meetings, but that the majority of members feel too out of touch to volunteer in this capacity.
However, more members were willing to provide advice and mentoring to young people on the basis of the experiences of their own careers.
As a result, it was decided to establish a collaborative programme aimed at bringing the experiences of BAFUNCS members to those UNA-UK Youth Groups which are located in UK Universities. In the latter half of 2015, BAFUNCS started working with the UN Society of the London School of Economics (LSE) Student Union on the development of a model programme. This experimental programme has proved very popular with students and is about to go into its fifth year of operation at LSE and has been successfully transferred to Kent University and the School of Oriental and African Studies (SOAS), with plans to start collaboration with Oxford Brookes in the academic year 2019/2020.
It involves a variety of activities including informal lunch time discussions with small groups of students, more formal evening panels, and structured workshops where BAFUNCS members set a development problem for teams of students and help to judge the winners.
Almost 20 BAFUNCS members have been involved so far – with some finding the experience so rewarding that they have participated in several sessions over the 5 year period. The photos show some of these:
an evening panel presentation given by Michael Davies, Richard Sydenham and Maggie Heraty at LSE in October 2018;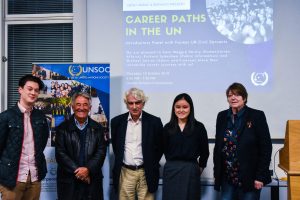 an evening panel given by Martin Barber and Maggie Heraty at SOAS in January 2019;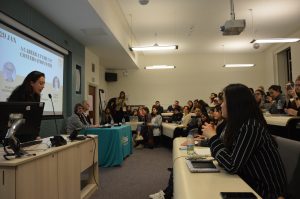 and a more structured workshop on migration given by Ron Skeldon at LSE in February 2019.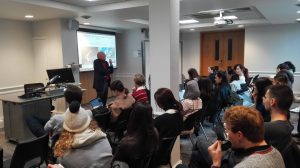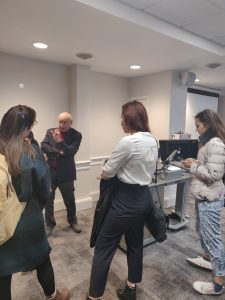 The future of the programme including its spread to other Universities around the country will depend not only upon the availability of BAFUNCS members volunteering as speakers at these events, but also upon the willingness of members to 'adopt' the UN Society at a University near them to provide continuity and support over the years as Society committees rotate.
If you are interested in participating as a speaker or would like to 'adopt' a University, then please get in touch with Marilyn Carr at marilyncarr55@aol.com. Please remember that the emphasis is very much on talking about your own careers and experience and what it was like to work for the UN either in the field or at HQ —- and does not require a knowledge of up-to-date UN topics or events.
Members of BAFUNCS who are interested in joining UNA-UK, or finding out more about others ways to support its work, should contact UNA-UK's Outreach Officer, Anneka Patel at Patel@una.org.uk or tel: 0207 776 3454