Collaboration with UNA-UK and Universities
The UN Association of the UK (UNA-UK) is the UK's leading independent policy authority on the UN and a grassroots membership organization with a network of supporters across the UK. Through education and advocacy, it seeks to promote a strong, credible and effective United Nations. Members of BAFUNCS who are interested in joining UNA-UK, or finding out more about others ways to support its work, should visit its website.
BAFUNCS has maintained close relations with UNA-UK. A proportion of BAFUNCS members are also members of UNA-UK, and several BAFUNCS members regularly give talks to UNA-UK local branch meetings.
From 2015 - 2019, BAFUNCS collaborated with UNA-UK under its "Career Paths" programme aimed at bringing the experiences of BAFUNCS members to groups, societies and associations in UK Universities linked to UNA-UK. Events were fostered at a variety of institutional partners, for example at the London School of Economics (LSE), University College London, SOAS London, Kent University and University of Sussex. BAFUNCS is in contact with UNA-UK to revive the collaboration after a lapse brought about by the pandemic.
In 2022, BAFUNCS resumed its Career Paths events in selected universities around the country. A range of formats are used, including small informal group discussions and more formal evening panels, with BAFUNCS members as discussants and panellists.
Almost 20 BAFUNCS members have been involved so far. If you are interested in participating as in such events as a panellist, then please send to a message to partnerships@bafuncs.org . Please remember that the emphasis is very much on talking about your own careers and experience and what it was like to work for the UN either at HQ or in the field —- and does not require a knowledge of up-to-date UN topics or events.
Click Here for news about the programme's most recent activities.
The photos below show some past events.
An evening panel presentation given by Michael Davies, Richard Sydenham and Maggie Heraty at LSE in October 2018.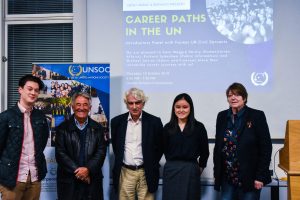 An evening panel given by Martin Barber and Maggie Heraty at SOAS in January 2019.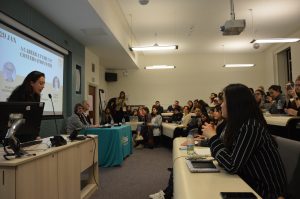 and a more structured workshop on migration given by Ron Skeldon at LSE in February 2019.