Former UN Secretary-General Kofi Annan's spokesperson across eight years, Frederic Eckhard, is the most recent senior UN official to have contributed valuable material to the BAFUNCS and Bodleian joint effort, the UN Career Records Project.  On 16 October in Oxford, accompanied by his wife Kathryn, he generously made over transcripts, CDs and tapes of 86 interviews with the great and the good which he had carried out in preparation of his book Kofi Annan – A Spokesperson's Memoir *.  Also included were a further eight interviews carried out for lectures which he has given since retirement at Zhejiang University in Hangzhou, China.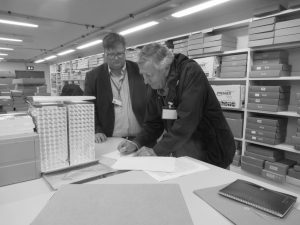 In the archives accessions room at the Bodleian's Weston Library and watched by Senior Archivist Michael Hughes, Fred Eckhard signs the donor agreement to make his transcripts over
Fred joined the UN Spokesperson's Office in 1988 under SG Javier Perez de Cuellar.  In that front-line role he served in Namibia (1989-90) and Bosnia (1992). Uniquely, he spoke jointly for the UN and the EU during the Geneva-based peace talks on the former Yugoslavia in 1991-93. Associate Spokesperson under SG Boutros Boutros-Ghali, he went on to be chief liaison officer with countries contributing troops for UN peacekeeping.  In 1997 incoming SG Kofi Annan named him his Spokesperson, in which capacity he continued until retirement in 2005.
The transcripts are from interviews including Martti Ahtisaari, Hans Blix, Lakhdar Brahimi, Jean-Marie Guehenno, Denis Halliday, Richard Holbrooke, Stephen Lewis, General Philippe Morillon, Iqbal Riza, Mary Robinson, Jeffery Sachs, Shashi Tharoor and Sir Brian Urquhart.  At this stage the material is awaiting cataloguing before becoming available to authorised Bodleian Library readers.
Bill Jackson
* Ruder Finn Press, New York, 2013, ISBN 9781932646566; also available in French and Chinese versions