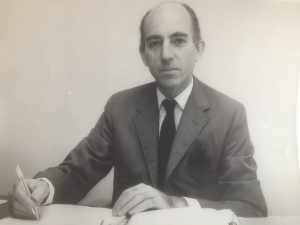 Kenneth John Winton Lane aged 100, usually known as Winton Lane, passed away in his sleep at midnight on 1st November 2017 in the Chelsea Wing of the Chelsea and Westminster Hospital. He was born on Friday 2nd February 1917 in Winchester, Hampshire to Frederick Harold John and Ethel Florence (Pooley) Lane.
Winton spent his childhood in Paris where his father worked in a bank and he attended  L'Ecole Jean-Baptiste Say. He met his first wife, Valeria (Varia) Alison McLeod Muir in London while he was studying to become a shipping clerk and she was a secretary with P&O shipping.  They married just before the outbreak of war in 1939 and Winton was recruited to the Intelligence Corps. He had applied in the expectation that he would be sent into occupied France but the internment of his father and mother as enemy aliens posed a security risk and he was instead assigned the task of writing a history of Hainan and analysing Japanese troop movements. The knowledge gained led to his secondment to the US War Department in Washington.   He achieved the rank of Major serving under Lord Mountbatten in General Headquarters in New Delhi and in the Supreme Allied Command for South East Asia in Kandy, Ceylon. He was honoured for his wartime service by being appointed an Officer of the US Legion of Merit.
After the war he joined the Inter Governmental Committee for Refugees and the International Refugee Organisation in Geneva. He then became an officer of the British Overseas Civil Service in Mauritius in 1949, firstly as Assistant Colonial Secretary and later as Civil Commissioner for the North until 1957 when he moved to The Gambia, West Africa. He oversaw the Royal Visit of Queen Elizabeth in 1961 and worked towards the peaceful transfer of power to Independence in 1964. Winton was then appointed to the post of Permanent Secretary to the Prime Minister and to the Cabinet of the Gambia until 1966. His service to The Queen was recognised by his appointment as Lieutenant of the Royal Victorian Order and then as Commander of the British Empire. Utilising his bilingualism he rejoined the United Nations as their Regional Development Association Advisor tasked with bringing about closer cooperation between The Gambia and its much larger neighbour, Senegal. He was appointed an Officer of L'Ordre  National de la Republique du Senegal in 1967.
His career then took a new turn when he became involved with developing family planning and mother and child health services in Kenya from 1970 until 1972 with the International Planned Parenthood Federation and then as Regional Representative of the UN Fund for Population Activities in Thailand, and later in Tunisia and Morocco until his retirement to Bethlehem, Connecticut in 1977.  With his second wife, Delia Gurnee Scott Tyrwhitt, he spent many happy years dividing his time between the United States and Chelsea in London seeing his children and grandchildren from his first marriage and the relatives of his second wife. On the deeply mourned death of Delia in October 2005 he gave up his transatlantic journeying and settled permanently in Chelsea where he lived an extremely independent life, loyally and assiduously corresponding with former colleagues and friends all over the world, reading, seeing French films and enthusiastically discussing current affairs. This was maintained right up until the last few days of his life.
He had been affected by the earlier death of his first wife in November 1988 and of his elder son, Andrew, in 1999 but is survived by his daughter, Yvette, and son Jamie and four grandchildren: Tara, Maya and Liam the children of Yvette; and Tabitha the daughter of Andrew.  He loved entertaining relatives and friends at The Travellers' Club and The Sloane Club and enjoyed the visits of his great grandchildren Katya, Lucia, Sylvie, Wolfie and Estrela. A small funeral service was held at Mortlake Crematorium on 23rd November 2017 at 2.40 to be followed by a memorial service at St Luke's Church, Chelsea on 14th June 2018 at 3.30pm.